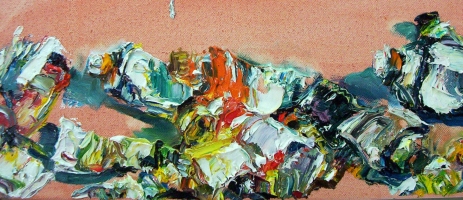 Biography
Beverly Rippel is an artist whose work is influenced by the visual world and all that resonates beneath its surface. She studied classical ballet with the Alicia Langford/Boston Ballet School and later studied piano and music theory at the Longy School of Music in Cambridge, MA where she received a Preparatory Certificate. She earned a Bachelor of Arts Degree from the University of Maine in Orono, with a major in Fine Arts and a minor in Anthropology, and continued studies at the Rhode Island School of Design. She is a mother, daughter, grandmother, aunt and sister , and the themes she explores spring from this collective background, often in series.
Beverly began teaching creative drawing and painting in 1989 to children and adults ages 7-90. She received several
Massachusetts Cultural Council Grant Awards
for art classes @ the Council on Aging in her home town of North Easton, MA where she taught for 15 years. She taught classes in drawing with writing, and workshops for painters on the 'interpretation of color' for 25 years. She maintains a studio in Stoughton, MA as well as in Boston's SOWA Arts and Design District at 450 Harrison Ave. Her Boston Studio/ Gallery 401B is open to the public from 5-9 p.m. every "First Friday" of each month, on most Sundays from 11 -3, and by appointment.
She has acted as juror for a number of exhibitions including "Art Under The Influence of Women", a national exhibition at Vincent's Gallery, Mansfield, MA where she was co-curator, and "Survival 2000", an exhibition at the Milton Art Museum, where she was guest curator.
Beverly was recently accepted into the National Association of Women Artists in the NYC and MA chapters and is also a juried gallery artist at Connecticut Academy of Fine Arts, the Cambridge Art Association, and the South Shore Art Center where she served on the Board of Advisors and as Chair of Exhibitions for 10 years. She is an exhibiting artist with The Arts and Business Council of Boston, and deCordova Sculpture Park and Museum's Corporate Exhibitions Program. She was a member of the Women's Caucus for Art/ Boston for 18 years. Beverly was the Founder of the
O.A.M.H. Painters' Workshop Studio
in North Easton, MA, and a Founding Member of the
Artists' Circle of the Fuller
Museum of Art
in Brockton, MA (now The Fuller Craft Museum). She was also a Founding Member of
New England Wax
, a group of artists who use the ancient art of encaustic painting in their work.
Beverly exhibits her work regionally and nationally, and has received awards from Carl Belz, Director Emeritus of the Rose Art Museum at Brandeis University, Cora Rosevear, curator from MOMA, New York, and Susan Cross from the Guggenheim Museum, N.Y. She was awarded a solo show at The Fuller Museum of Art, Brockton, MA, and won
"Best of Show
" in Cambridge Art's first National Prize Show juried by Malcolm Rogers, the Ann and Graham Gund Director of the Museum of Fine Arts, Boston. Rogers selected Rippel's "Just Once" from over 4000 works. She was given the
Juror's Award
for "Turn, Turn, Turn" (a triptych of yellow water pistols) by Mara Williams, independent curator and partner of Artsbridge of Vermont and NYC who was also curator of
Andy Warhol-
Intimate and Unseen
at the Brattleboro (VT) Museum.
Beverly's "Blue Cap Gun II, and III" were selected for the
2010 I-95 Triennial
Exhibition / Bangor to Providence
@ the UMMA Museum of Art in Bangor, ME.
Her "Pink Cap Gun I" was selected for Maine's
2011 Portland Museum of Art Biennial.
Beverly's work is in many private and corporate collections internationally, with series paintings in the collections of Nokia Corporation, Burlington, MA, as well as The Federal Reserve Bank of Boston, and MIT University Park, Cambridge